Newtown Square Veterinary Hospital
NSVH is a progressive, privately owned, boutique-style, full service veterinary hospital created by Dr. Heather DiGiacomo, VMD, a lifelong resident of the Main Line and an experienced small animal veterinarian.
As many veterinary hospitals are sold to corporations, and appointments become rushed and impersonal, Dr. DiGiacomo has designed an innovative veterinary model where client and patient relationships are cultivated and nurtured.
The focus of NSVH is preventative and proactive medicine, combining the most modern therapeutics and diagnostics with the warmth and hospitality of a family doctor.
All clients and patients of NSVH are treated as family; both well and sick visits are scheduled for a minimum of 30 minutes with our doctors. Each pet receives a customized vaccine, diet and parasite prevention plan, as well as detailed reports of each visit with the doctor.
---
Get To Know Us
Dr. Heather DiGiacomo, VMD
Dr. DiGiacomo has almost twenty years of experience in small animal medicine and surgery. Having worked at several of the most prestigious practices on the Main Line, Dr. D has extensive experience in veterinary dentistry, gastroenterology, dermatology, radiology, internal medicine, pediatric medicine, soft tissue surgery and palliative care (among many other subspecialities). Dr. DiGiacomo is a Fear Free Elite Certified Practitioner and founded NSVH on the principle of providing low-stress handling for all of her patients. Dr. DiGiacomo is a member of the American Veterinary Medical Association (AVMA), the American Association of Feline Practitioners (AAFP) and has recently been elected to the board of directors of the Independent Veterinary Practitioners Association (IVPA). Dr. DiGiacomo also recently became a certified Cat Friendly Veterinarian by the AAFP. Dr. DiGiacomo has completed the prestigious Veterinary Dental Practitioner program through the
International Veterinary Dental Institute
. This is an intensive, year-long program for general veterinary practitioners to elevate their oral surgery skills to the highest level.
More About Dr. D
Dr. Lisa Harwood, VMD
Dr. Lisa Harwood is excited to have joined the NSVH team after practicing veterinary medicine for over 15 years in South Philadelphia and the Main Line. She grew up in Rhode Island and then received her undergraduate degree from Duke University and will always be a Blue Devil basketball fan. She earned her veterinary degree Summa Cum Laude from the University of Pennsylvania in 2003. She is a member of the American Veterinary Medical Association and is accredited by the USDA. She is also a Fear Free Certified Practitioner. When not caring for her patients, Dr. Harwood is kept busy by her two children. She enjoys practicing yoga, riding her Peloton, being a hockey mom, and snuggling with her misbehaving tuxedo kitten and her lazy pug mix.
Dr. Lexy So, VMD
Dr. Lexy So is thrilled to have joined the NSVH team in 2020. Dr. So is a native of Havertown, and comes to NSVH from another acclaimed veterinary hospital on the Main Line. She received a bachelor of science degree in veterinary and biomedical sciences from Pennsylvania State University. Dr. So is a 2019 graduate of the University of Pennsylvania School of Veterinary Medicine. In order to remain close to family and friends, Dr. So and her husband decided to stay local, and she is thrilled to return to the community where she was raised. Dr. So enjoys collecting indoor plants, gardening, yoga, antique hunting, painting, and crafting of any kind. She has five rescued dogs: a one-eyed cocker spaniel mix, a pit bull/hound mix, two chihuahuas, and a pomeranian. Dr. So is a strong advocate for preventative medicine. Her primary interests are soft tissue surgery, dentistry and oral surgery. Dr. So is a Fear Free Certified Practitioner.
Dr. Gretchen Fanconi-Shifflett, DVM
Dr. Shifflett couldn't be happier to have found her new home at NSVH. She graduated from the University of Miami (Go Canes!) in 1997 and the Virginia-Maryland College of Veterinary Medicine in 2001. After practicing in North Carolina and Illinois, she made her permanent home in Pennsylvania in 2004. In her twenty-two years of practicing veterinary medicine, Dr. Shifflett has found a special passion for surgery, dentistry, feline medicine, oncology and endocrinology. Dr. Shifflett is a Fear Free Certified Practitioner. In her free time, Dr. Shifflett enjoys spending time with her husband, two human children and four furbabies (Gable, Geyser, Ember and Echo). She is also an avid runner and workout enthusiast.
Erica - Practice Manager
E
rica Brown is thrilled to have joined NSVH as the Practice Manager. Prior to joining NSVH, Erica worked at a busy practice in West Chester for twelve years, where she developed a love for client relations and management. Erica's mission
is to make sure NSVH provides the best medical care and service to our clients, while also providing educational opportunities during visits.
Prior to becoming a manager, Erica spent several years as veterinarian technician and client service representative. Erica shares her home with her husband, son, daughter, a Boston Terrier named Snoop and a Russian Tortoise named Turtle Koon. In her free time, she can be found traveling, doing home renovations, spending time with her family and cheering on her beloved husband/son on the basketball court.
Isabella - Client Experience Manager
Isabella grew up in Philadelphia, Pennsylvania, in a home that was always open to cats in need.  Over the years, she has had the pleasure of caring for eight FIV positive felines, all rescued from the Philadelphia area. She is an internationally certified 4th dan black belt in the Korean martial art of Taekwondo. Isabella has worked in the martial arts industry for the past decade as an instructor and business manager, most recently running a privately owned dojang in Bucks county. Isabella has always been passionate about animals and chose to apply her professional experience in a setting that allowed her to contribute to their care and welfare. She hopes to expand further into the field of veterinary medicine and greatly enjoys listening to the doctors and technicians of our practice discuss their work. When she's not at the front desk, she's snuggling up with her cats Ami and Charlotte, or cooking too much food with her boyfriend.
Heather – Veterinary Technician Coordinator
Heather grew up in Delaware and Lancaster Counties, attending Pequea Valley High School.  She always felt a strong connection to animals so it was no surprise to those who knew her that she chose the veterinary nursing path. Heather earned a BS in Veterinary Medical Technology at Wilson College. After graduation, she worked at a mixed animal practice in Lancaster County. She then moved to Georgia, working in the large animal department at the University of Georgia Veterinary Teaching Hospital. From there, Heather's path led her to England for several years where she reconnected with her passion for small animal medicine. After her sojourn to the U.K., Heather returned to central Pennsylvania where she worked in a small animal and exotics clinic before moving back to Delaware County and joining the NSVH team. Heather's spare time is spent with her adorable French bulldog Piper and domestic short hair kitty Pita.  She also loves spending time with family and friends, going to the beach, dining and movies.
Wendy - Veterinary Technician
Wendy joined NSVH in March of 2021. She is a highly experienced veterinary technician, having worked in the field for many years. After spending a few years in Colorado, Wendy returned home to Delaware County and worked as a barn manager at a horse farm in Pocopson. In 2002, she happily made the transition to working with small animals and has worked in both Western medicine practices as well as a holistic medicine practice.  Wendy has a Bachelor's degree from Bloomsburg University and is Fear Free certified. She enjoys walking her American Foxhound, Arden, her foster dog, Chloe, reading with her 19 year old cat, Stella and going to the beach with her extended family.
Faith - Client Service Representative
Faith is thrilled to join the NSVH team and is enjoying meeting our amazing clients and patients. Faith was born prematurely, weighing in just under three pounds and beating all odds against her. Faith is 2007 graduate of the Coatesville Area High School. She lives in the Chester County area with her two beautiful daughters and their fabulous cats Sapphire and Simon. In her free time, Faith loves to travel. When not traveling, she enjoys cooking and spending time with her close family. She lives by the motto: Faith Over Fear!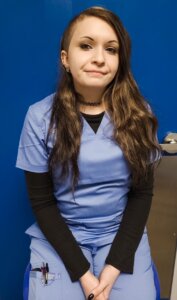 Sammy - Veterinary Technician
Sammy grew up in Chester County and graduated from Avon Grove Charter School. Shortly after high school she began her career in the animal field by working at a small, family-owned pet store and grooming salon. This experience led to a position at a small animal practice in Delaware County where Sammy managed the boarding facility, groomed dogs and assisted the client service and technician teams. During her time there, she also worked with several animal rescues to assist in saving stray dogs in Delaware County. Sammy later moved on to a larger scale hospital in West Chester where she was a canine rehabilitation technician. Sammy has a passion for wildlife and animal rescue. She is currently enrolled in the veterinary technician program with Penn Foster to further her education, allowing her to expand her role in providing the best possible medical care for her patients.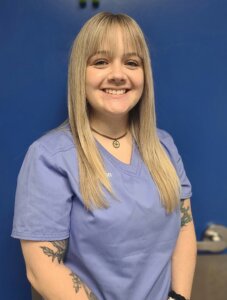 Madison - Veterinary Technician
A lifelong resident of the Philadelphia area, Madison has always loved animals. Madison graduated from the Animal Science program at her high school, and then went on to pursue a degree in Veterinary Nursing at Harcum College. She has been working in animal hospitals since 2015 and enjoys learning more about veterinary medicine each year. Madison has a special love for exotic and unusual pets, especially rats. She lives locally and enjoys hanging out with her tripod Husky Igloo, her Yorkie/Shih Tzu mix Jack and her dumbo rat, Sammy!
Kate - Client Service Representative
Kate is a Delaware County native with over ten years of client service experience. She was born into a pet-loving family and has always been passionate about animals and their care. There's never been a time in her life that she hasn't had a pet companion - whether it be canines, reptiles, or even farm animals. Most of her free time growing up was spent in the outdoors at her family farm in Sullivan County, PA. At the farm, she enjoys caring for animals, training her dogs, hiking, hunting & fishing, enjoying motorsports, gardening and cooking. To this day, she still loves the outdoors and takes any chance she can get to be in the wilderness. She was married to her loving husband in 2020 and together they share Taters, a Treeing Walker Coonhound/German Shepherd Dog mix. Kate is ecstatic to join the NSVH Family and to learn more from her highly skilled and experienced colleagues!
Tammy- Certified Veterinary Technician
Tammy is thrilled to have joined the NSVH family. She grew up in Delaware County and she has always had a special love for animals. Tammy began working in the field as a kennel assistant during high school. After high school, she attended Harcum College and received her degree in Veterinary Nursing. Tammy has been a Certified Veterinary Technician since 2001 and she spent the majority of her career in Emergency/Critical Care and Internal Medicine. Her special interests include immune mediated diseases, gastrointestinal diseases and spicy feline friends. In her free time, she enjoys spending time with her family and friends, being outdoors in nature and practicing yoga. Tammy has two dogs and two cats who graciously share their house with her.
Brittany - Veterinary Technician
Brittany is delighted to join the NSVH team. She grew up in Lebanon County, but recently moved home after spending the last several years in San Diego with her husband while he was in the military. During her time in San Diego, Brittany attended Animal Behavior College and received her certification in Veterinary Assisting. She gained her experience working in general practices, and discovered her love for the connections she makes and seeing the familiar faces of her patients. She is now enrolled in Penn Foster to further her education and become a Certified Veterinary Technician. When she's not loving on her patients, Brittany spends her time in nature and traveling with her husband. She is a mom of two dogs: her Dachshund, Captain, and her Golden Retriever, Millie.